EOS Crop Monitoring
If you are interested to purchase this product, please contact with us, write your concern & our sales team will contact with you soon.
Contact to Purchase This Product
Contact US

Contact us for any question regarding this product
Authorized Software Partnership

Agrobyte is authorized with all digital agriculture software like Pix4D, Solvi, Agremo, FarmAIr, EOS, Cultiwise, Dronelogbook & many more.
Apply For Credit

Seeking agricultural credit to acquire essential tools for modernizing farming practices, such as drones, advanced software, and other agricultural necessities. Enhancing productivity and efficiency through technology driven solutions in agriculture. Agrobyte partnered with Ascentium Capital,

Authorized DJI Reseller

Agrobyte is authorized DJI reseller.
Secure Payments

Our payment gateway is 100% secure!
Share
Making agriculture easy with space technologies
Save Time
Reduce Cost
Improve Yields
Easy-to-use satellite field monitoring
Profitable VRA farming approach
Reliable weather forecast & historical data
Core Platform's Features:
Watch a quick overview of the EOSDA Crop Monitoring: how to use it and what are its key features and advantages. How to track crop health using vegetation indices? What's unique about our weather analytics? How can our platform make scouting more efficient? Why is zoning a money saver?
Features:

Tailored solutions to suit everyone
Tools:

Farming is complex.
EOSDA Crop Monitoring is easy.
Sit back and grow, manage, profit.
Worried about the state of crops when you're not looking?

Based on satellite images, EOSDA Crop Monitoring helps farmers to manage multiple fields, cut costs on resources and take reliable decisions. Big data covers big issues.

Easy-to-read maps
Data-driven decisions
AI cloud mask
Vegetation indices
Field leaderboard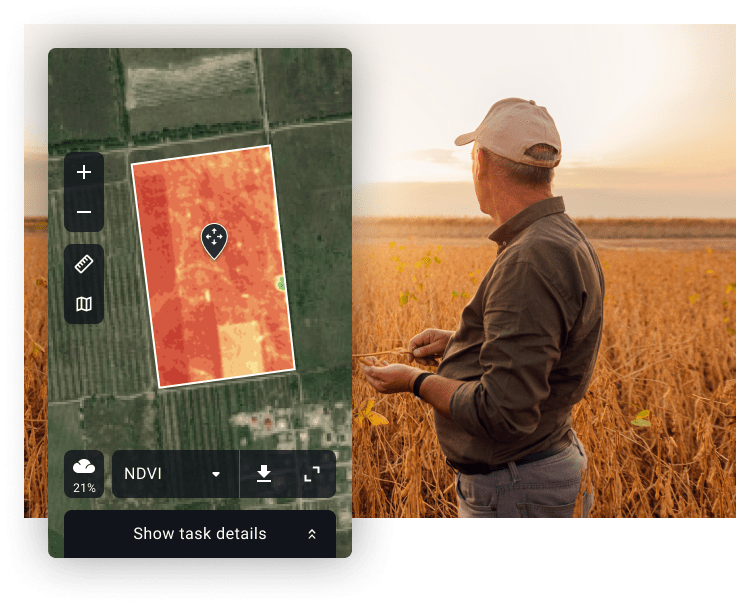 Tired of wasting your budget on inefficient fertilizing methods?
Variable rate application will help you save up to 20% on seeds and fertilizers. Use zoning to reveal your field's true productivity and vegetation maps.
Productivity maps
Vegetation maps
Prescription maps
Compatibility with top manufacturers equipment
Problems with your crops go unnoticed until it's way too late?

Satellite monitoring allows for early and more accurate problem areas detection. Scouts do not get sent for a wild goose chase!
On-field changes notifications
Precise problem area detection
Downloadable scout reports
Mobile app to assist scouts
Unexpected weather events tamper with your crops productivity levels?
Solution: a 14-day weather forecast for each individual field for a more flexible planning
Historical weather data archive
Reliable 14-day weather forecast
Weather risk assessment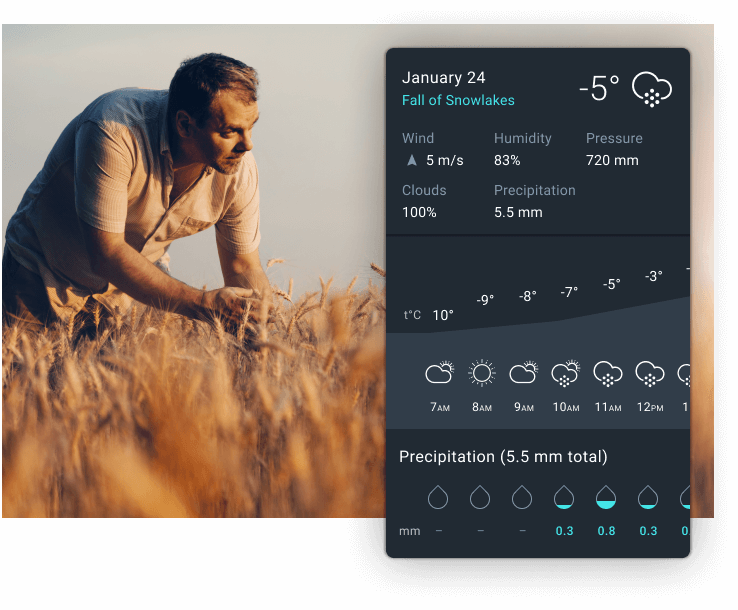 Find it extremely hard to keep track of all your field activities throughout the season?
Field activity log allows you to effortlessly plan and monitor all of your field activities for all of the crops in one place. Now it's all under control.
Easy-to-handle activity organizer and planner
Notifications about deviations from schedule (coming soon)
Notifications about equipment failure (coming soon)
Automated activity cost estimation
Analysis of costs, deviations from schedule, and more
Machinery and equipment allocation
FEATURES:
Satellite Monitoring
We rely on the latest satellite data, processed and analyzed with widely-used and custom algorithms, such as field contours, tile-based map rendering, VI dynamics, cloud/shadow mapping, change detection, among others. Monitor multiple fields at once, track the VI change in correlation with the weather, growth stages, crop rotation, and other data. Get notified via email and make precision-driven decisions, thus increasing yields and revenue.
Manage your team effectively and effortlessly - maximize yields
Manage access settings for team members
Assign tasks & manage their completion
Save time on managing your team
Observe crops with more precision to get better profits from every hectare
Find problem spots in time
Record field observations on-the-go
Schedule corrective actions
Weather data
Historical weather available since 2008 and a reliable 14-day forecast.
Get access to daily and accumulated temperatures and precipitation rates since 2008 for any of your fields.

Use the Forecast feature to plan your field activities for two weeks ahead.
Zoning
Create vegetation and productivity maps to identify problem areas on the field with more precision. Use this data to enhance variable rate application of seeds and fertilizers, reduce costs and improve yields. Zoning is an indispensable tool for precision agriculture.

Enhance precision farming with daily updated high-resolution satellite imagery

Deep dive into details at a 3m resolution
Near real-time monitoring thanks to daily satellite images


About Agrobytes
At AgroByte, we are at the forefront of the digital agriculture revolution. Our mission is to empower farmers and agribusinesses with innovative solutions that drive efficiency, sustainability, and profitability. Through the seamless integration of technology and agriculture, we are transforming the way farming is done.
Know More
Premium Customer Service

AgroByte's Premium Customer Service provides you with dedicated customer support that is just a phone call or email away. Our team of knowledgeable and friendly experts is ready to address your questions, concerns, and technical inquiries promptly and efficiently.

Know More

AgroByte Experience

Our team consists of experts in the field of digital agriculture, who have extensive knowledge and experience in using drones, software solutions, and innovative technologies to improve crop yields, automate processes, and minimize the environmental impact of farming practices.

Know More