DroneLogbook - Agriculture Edition
Regular price
$475.00 USD
Regular price
Sale price
$475.00 USD
Unit price
per
Sale
Sold out
Shipping From California on Thursday

We ship from California on every Thursday & we have service center at Ringoes, NJ, USA
Apply For Credit

Seeking agricultural credit to acquire essential tools for modernizing farming practices, such as drones, advanced software, and other agricultural necessities. Enhancing productivity and efficiency through technology driven solutions in agriculture. Agrobyte partnered with Ascentium Capital,

Authorized DJI Reseller

Agrobyte is authorized DJI reseller.
Authorized Software Partnership

Agrobyte is authorized with all digital agriculture software like Pix4D, Solvi & many more.
Free Nationwide Delivery

Free delivery for all orders above $1000
Secure Payments

Our payment gateway is 100% secure!
Share
DroneLogbook - Agriculture Edition
DLB Ag Edition was developed with the FAA Part 137 UAV operator in mind and blends the power of DLB with the needs of the agricultural custom applicator.
DLB Ag Edition was developed with a specific workflow to ensure an accurate exchange of application information from the grower all the way to the Remote Pilot.
Mission Planning
Compliance Reporting
Maintenance Reporting
Flight Tracking
Custom Digital Forms
Offline Operations
Fleet Management
Personnel Tracking
Scheduled Inspections
A Solution Built for Agriculture
By autonomously ensuring state and federal recordkeeping and reporting requirements are met, DLB Ag allows you to focus on more important things, like quality applications.
No more paper pads or memory based application records days later. Detailed information gathered by the drone and the remote pilot is immediately uploaded to the DLB servers. Once an application is complete, easily share detailed data, such as drone telemetry, product applied and weather with the grower or regulatory bodies.

DLB Ag Edition was developed with a specific workflow to ensure an accurate exchange of application information from the grower all the way to the Remote Pilot. This exchange is critical to the safe, accurate and successful ag aerial application.
A customer portal allows the grower to access the system and create a new or activate a previous application. These customer requests are then reviewed by the operator and assigned to a remote pilot. This workflow ensures the who, what, when and where of the application can not be misunderstood.

Land Owners or Consultants Mission Request
Land Owner/Consultants can outline fields and applications and send to applicator to create missions.

Log Flight Details & Documentation
Import flight logs to auto fill flight data (flying time, weather information, GPS trace...). View GPS trace and play back in 3D.

Manage Inspection and Maintenance
Build custom inspection schedules and auto notify when next inspection or component replacements are due. Manage episodic maintenance events and synchronize with inspection calendar.

Compliance Features: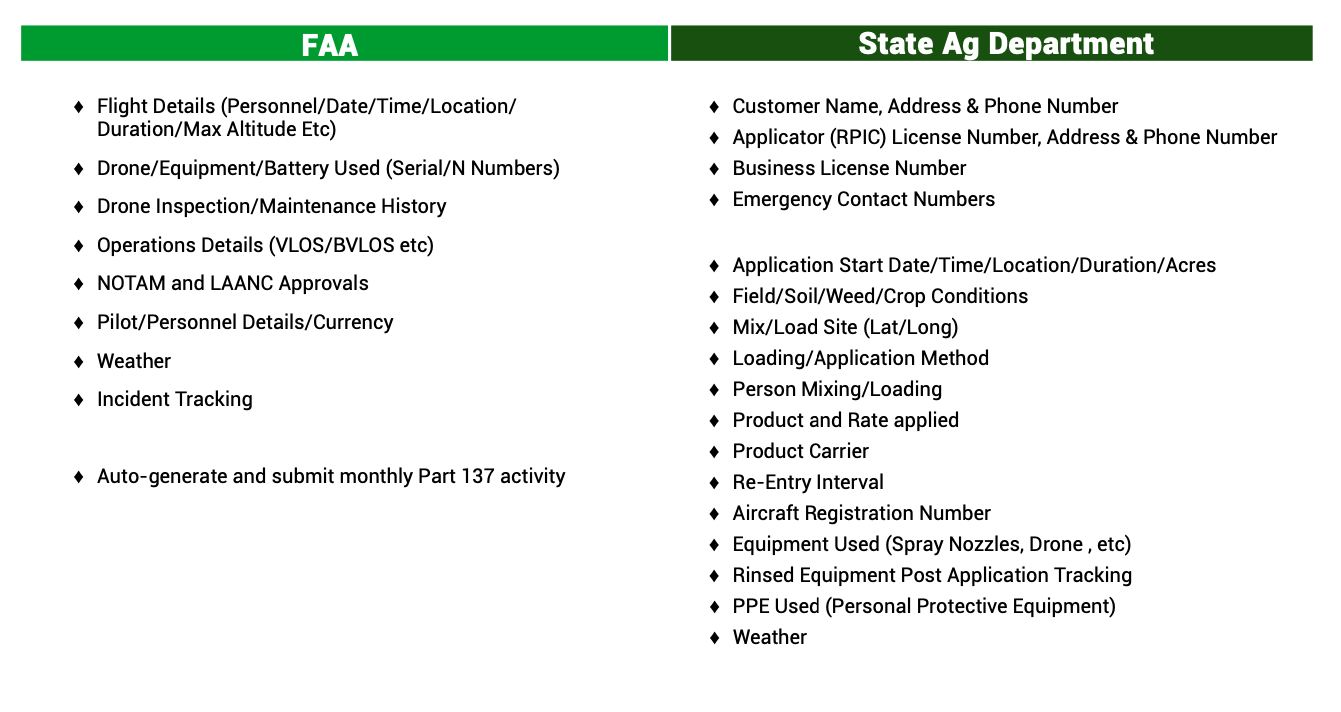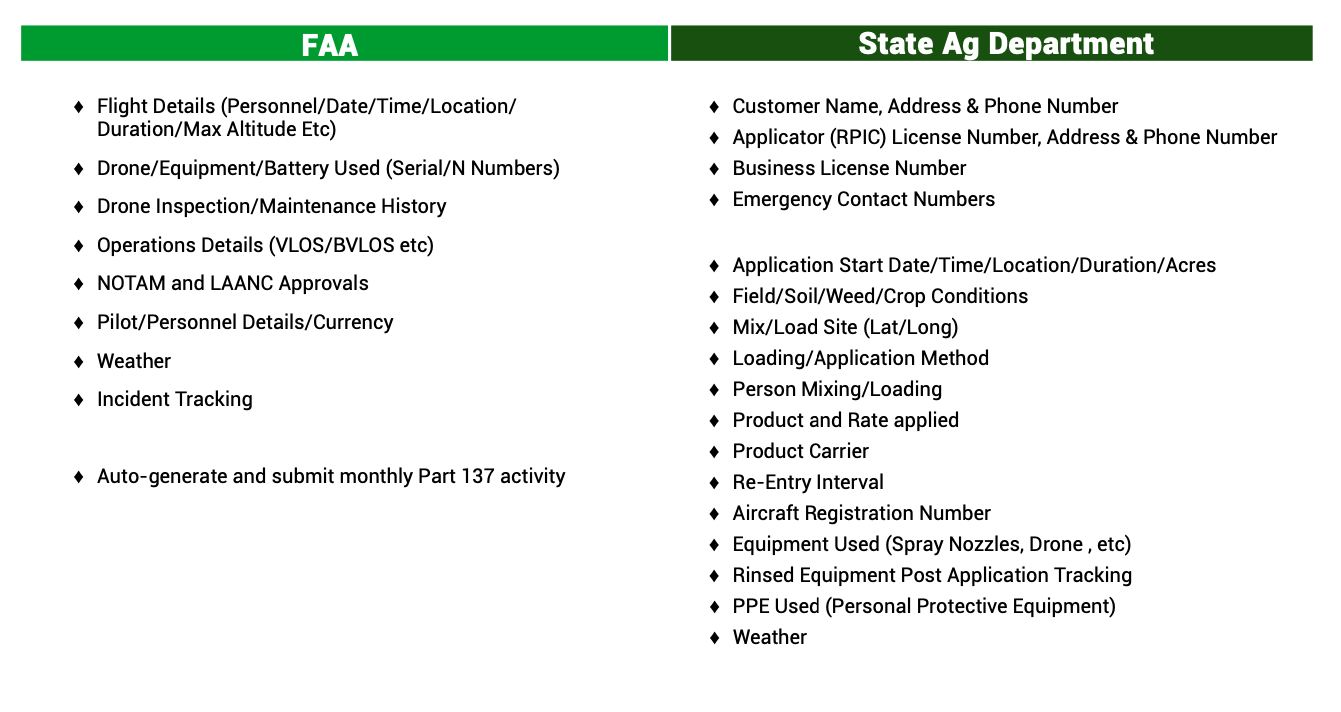 The DroneLogbook Advantage


DroneLogbook is the industry leader for automating importing flight logs. We support more file types than any other drone compliance software provider. Your UAV operations require a growing and diverse fleet to perform the expanding number of jobs being assigned. Your drone operations software needs to be able to scale and support the tools you use.

Compliance & Custom Reporting

The most important part of your commercial operations is making sure you stay compliant. DroneLogbook tracks all your operations to allow you to create reports in seconds. Generate compliance (FAA, CAA, CASA, CAD, EASA, DGAC, TBST) reports in seconds. Regulatory agencies require you to produce records on demand. In addition, we have a series of custom reports available to allow you to track pilots, flights, maintenance and more.

DroneLogbook makes it that easy.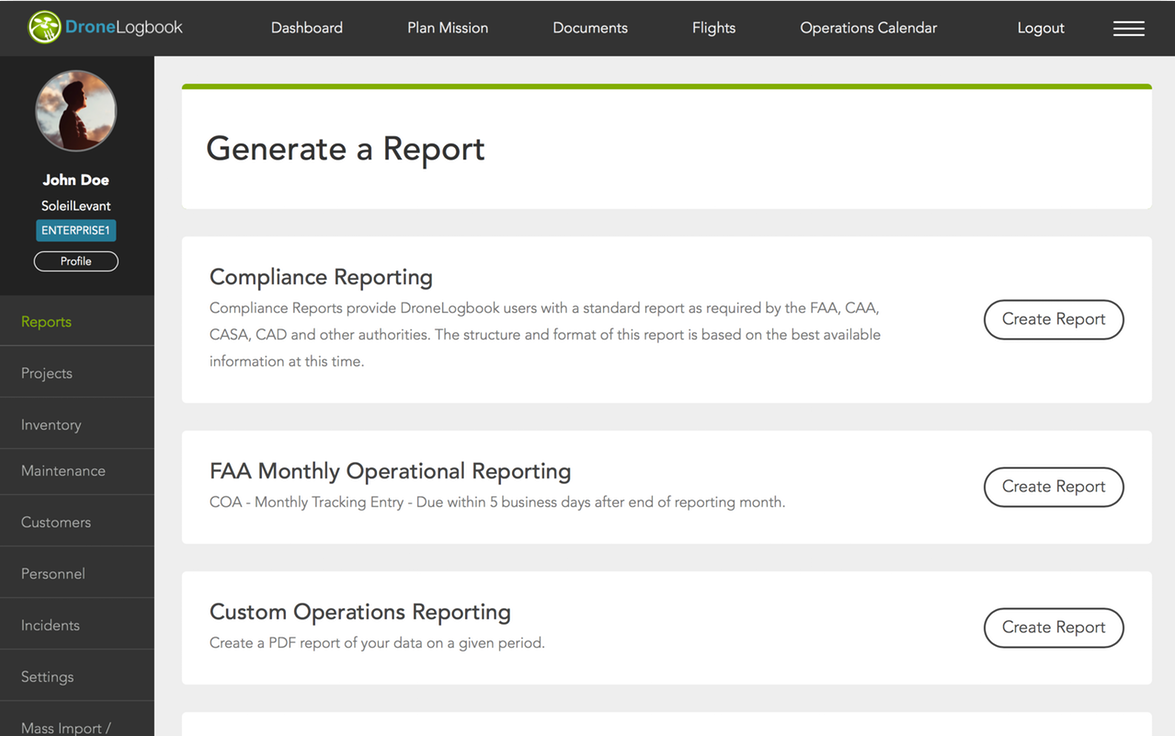 Documentation

DroneLogbook provides a digital document library with custom checklists and risk assessment forms. In addition, you can upload hard copies of other forms if needed.

Create documentation electronically (Authorization Forms, POA, etc) Attach pre and post flight documentation to flights. Track maintenance operations, authorize flights and more...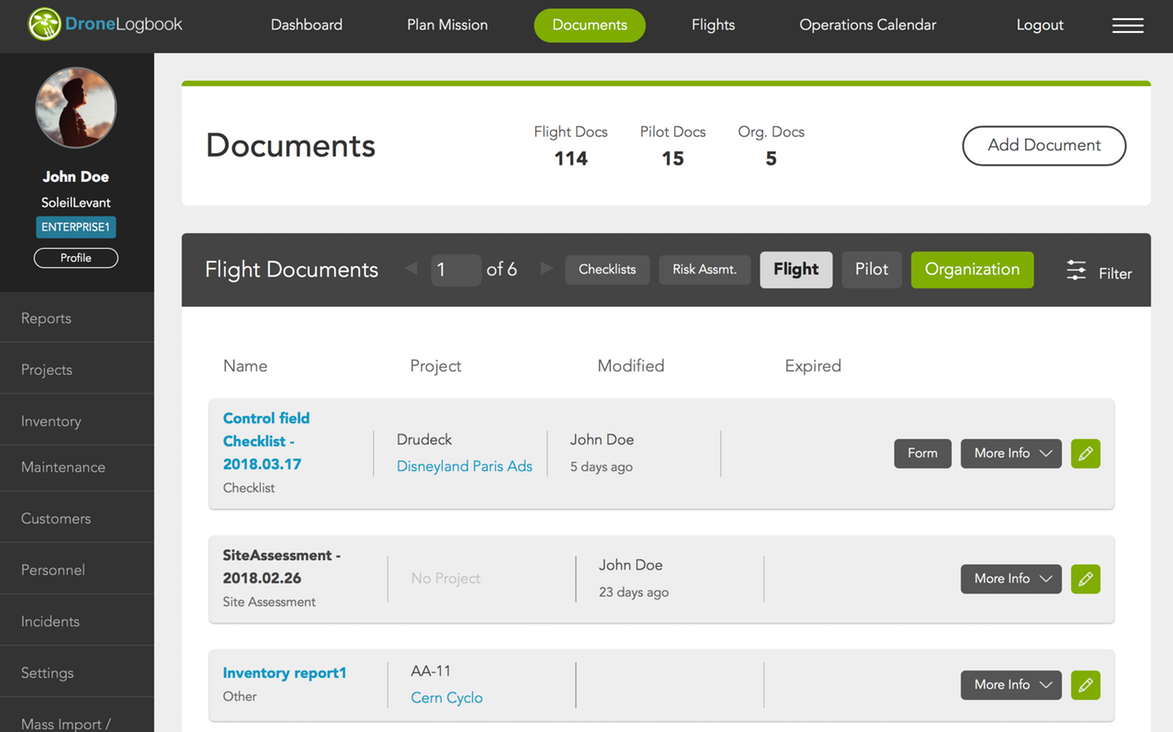 Mission Planning & Operations Calendar

DroneLogbook allows you to plan missions, assign personnel and equipment and check airspace status in minutes. We also provide an operations calendar so you can view your past and future fights in a single screen, providing the information you need at your fingertips.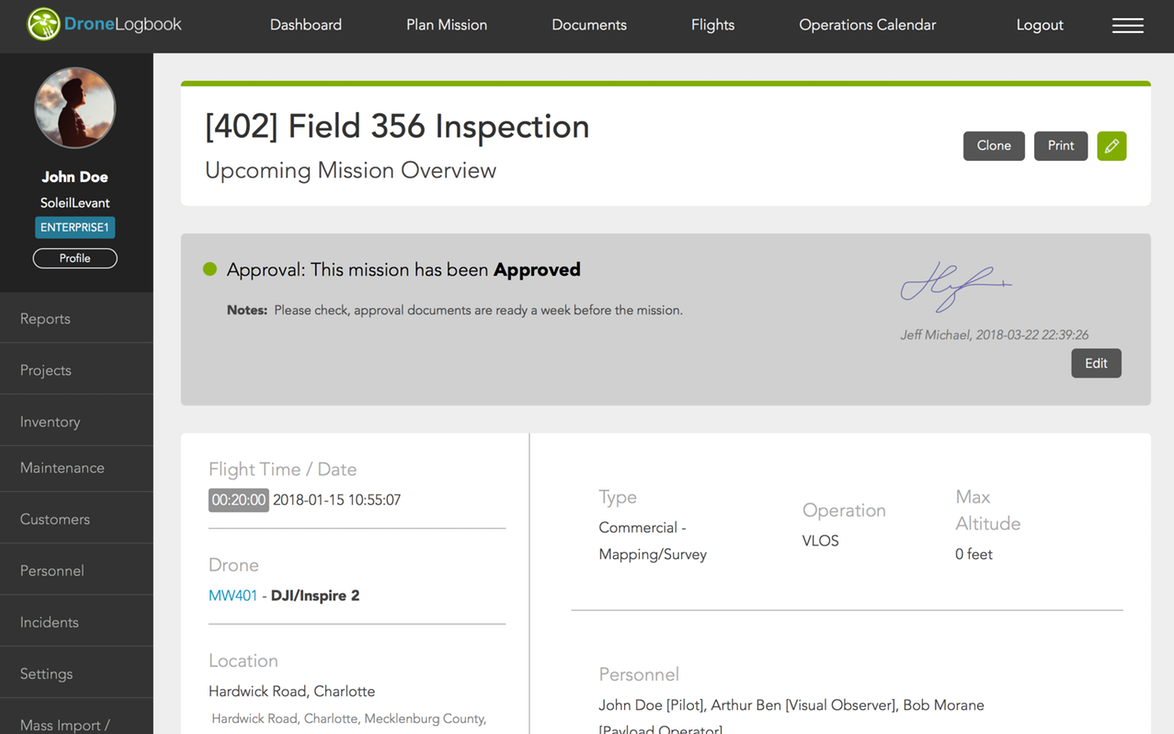 Drone Inspections & Maintenance

Inspection module allows for building inspection schedules as recommended by manufacturer; and viewing fleet maintenance across all drones.
Get notifications when inspection tasks needs to be done. Track Part Serial number, lifespan and replacement history.
Manage all your drone and equipment maintenance actions.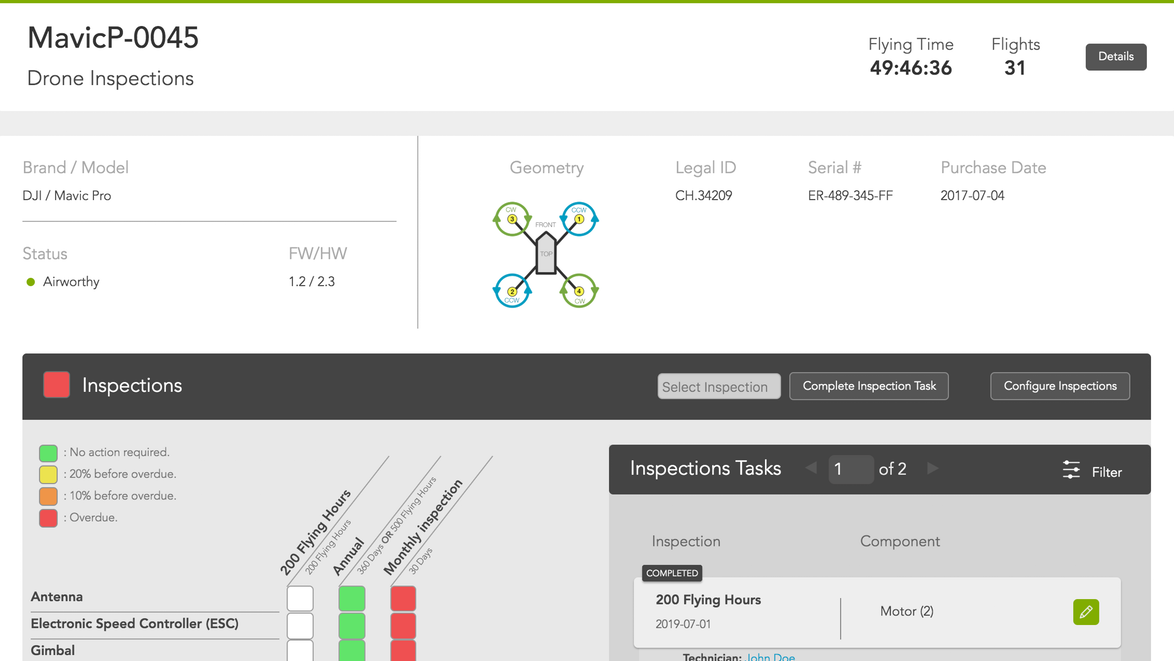 Personnel Dashboard

DroneLogbook allows you to display detailed personnel dashboard.

Manage and monitor pilot currency. Store and track documents (pilot, organization). Share information within the organization.

Manage personnel profiling with skills and capabilities tracking : Regulations, Operations, Business use cases and solutions.
Compare skills across your organization and find the right pilot to a specific mission.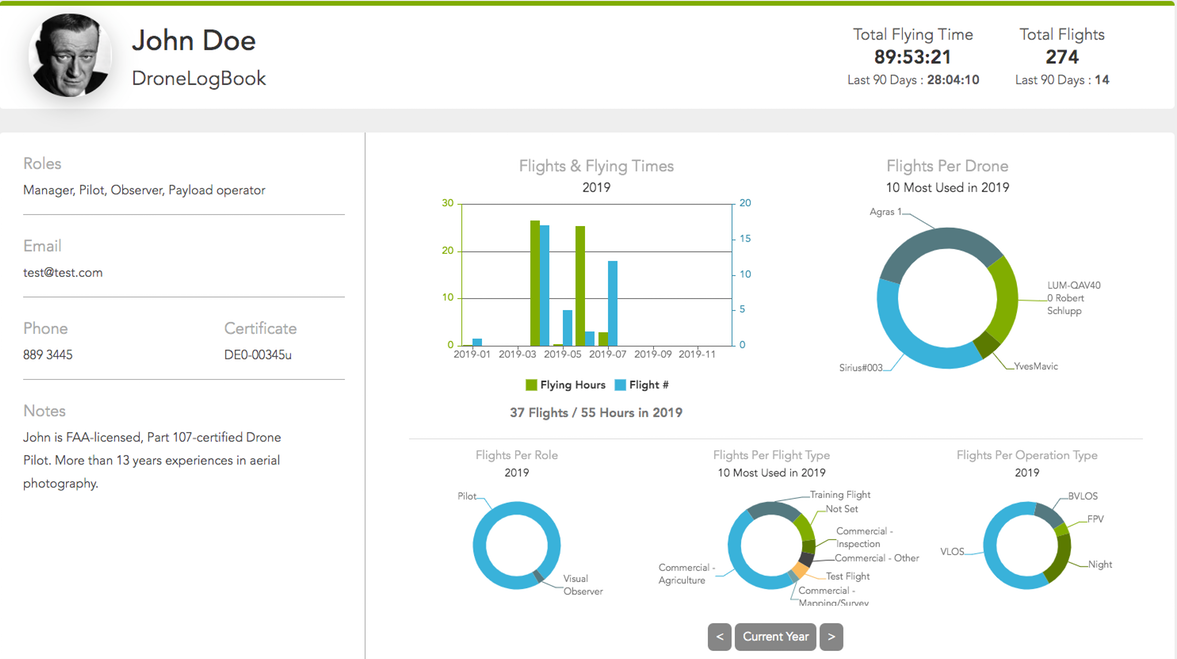 Features
Fleet Management:


DroneLogbook provides our users with a detailed fleet management suite. The fleet management module allows for creating inspection schedules (scheduled drone inspections) and a maintenance module which allows for unscheduled events and follow up. These two modules are linked to allow the user the option of updating the inspection schedule for maintenance items.

The DroneLogbook inspection and maintenance modules are automatically updated with each flight entered. When the user enters flights via our automated log file importers the inspection schedules are updated immediately.

Our system provides users with the following features:

Private Label

Customizable drone component lists (Motors, Propellers (CW, CCW), ESC's etc...)
Customizable equipment list (Camera's, Gimbles, Lidar, Battery Chargers, Cases, etc...)
(Optional) Automatically flag flights where user operated a drone with overdue inspection
(Optional) Automatically move a drone into maintenance (non operational) if overdue for inspection
(Optional) Automatically flag batteries after X flights (user defined)
(Optional) Flag user when components or drone hull is overdue, 10 percent or 20 percent before drone / parts become overdue for inspection / maintenance follow up

All Servers

Create inspection schedules based on flights, hours or days as the trigger (2 of the 3 on one schedule)
Add serial numbers to individual components
Create unique component list for each inspection
Individual inspection and replacement schedules
Assign maintenance technician
Maintenance follow up independent of inspection schedule. Example to follow up on screws being tight after X flights

Workflow Advantage

DroneLogbook works by importing flight logs via automated or manual telemetry importation or non-telemetry flight logging (see our Drone Integration Hub for details by drone manufacturer) and then automatically tabulating the flight information against the following fields:

Asset: Drone, Drone subcomponents, Batteries, Equipment. Operations: Mission Type, Operations Type, Operation Approval Type, Incidents, Personnel by Role. Organization: Organization ID, Project, Customer, Location.

For flight log importing we support telemetry from all the major suppliers DJI, Pixhawk, Auterion including their ground control applications such as all the major DJI ground stations (DJI Go, DJI Go 4, DJI Pilot, etc..),DroneHarmony, Dronelink, UGCS, Maps Made Easy, Autel, Parrot, SenseFly, Wingtra, Ardupilot (Mission Planner), Q Ground Control and many more.

What this means for the end user is DroneLogbook can instantly provide detailed reporting across all operational areas.

Compliance reporting for all regulatory agencies: FAA, CAA, CASA, Transport Canada, DGCS
Detailed Reporting for: Incidents, Battery Charges, Pilot Activity, Drone Activity, Maintenance / Inspection, Project, Planned Missions, Inventory

In addition to in depth reporting DroneLogbook provides the ability to be notified when procedures deviate from authorized operations. This includes items such as notifications if checklists aren't completed as required, flights deviate from allowed parameters, compliance items are violated, documentation is expiring and many more proactive functions. This allows the user to concentrate on operations and dramatically reducing the time required to maintain compliance. 
About Agrobyte
At AgroByte, we are at the forefront of the digital agriculture revolution. Our mission is to empower farmers and agribusinesses with innovative solutions that drive efficiency, sustainability, and profitability. Through the seamless integration of technology and agriculture, we are transforming the way farming is done.
Know More
Premium Customer Service

AgroByte's Premium Customer Service provides you with dedicated customer support that is just a phone call or email away. Our team of knowledgeable and friendly experts is ready to address your questions, concerns, and technical inquiries promptly and efficiently.

Know More

AgroByte Experience

Our team consists of experts in the field of digital agriculture, who have extensive knowledge and experience in using drones, software solutions, and innovative technologies to improve crop yields, automate processes, and minimize the environmental impact of farming practices.

Know More